Happy New Year from Jim's Big Ego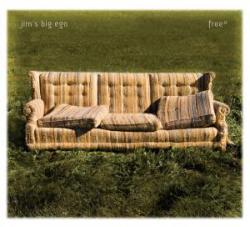 Dear Egomaniac,
Thanks for downloading
free*
- our latest release. We hope you enjoy the music. If you like what you heard, please consider visiting our
website
and purchasing another one of our discs. Being an independent band, 100% of the proceeds go to keeping us playing.
Thanks for the interest and support!
PS - Don't know if you already saw, but here's an entertaining
end-of-2008 video
that features on of our songs. Happy New Year!
WATCH VIDEO
"First, go like this.
Spin around, stop.
Double-take three times: One, two, three.
Then- pelvic thrust! Who! Whoo!
Stop on your right foot, DON'T FORGET IT!
Now it's time to bring it around town, BRING IT a-ROUND TOWN!
Then you do this, and that, and this and that, this and that, this and
that, and then..." [blows bubbles]
•- Spongebob