Solo In Isolation #35 on Patreon - Wakeful Wanderer Book 2 launches TODAY
Saturday, June 12 at 5pm Eastern
on Patreon - join for as little as $1/mo
I must say, this has been an amazing run of online shows. I have really enjoyed connecting with all of you during the crazy pandemic we just experienced. I hope the worst over as we go into the summer. I will keep doing online shows for my patrons at Patreon for their continuing support, perhaps not as often, and also perhaps with some varied formats. Please join me for this one and the after party on zoom. See you there!
---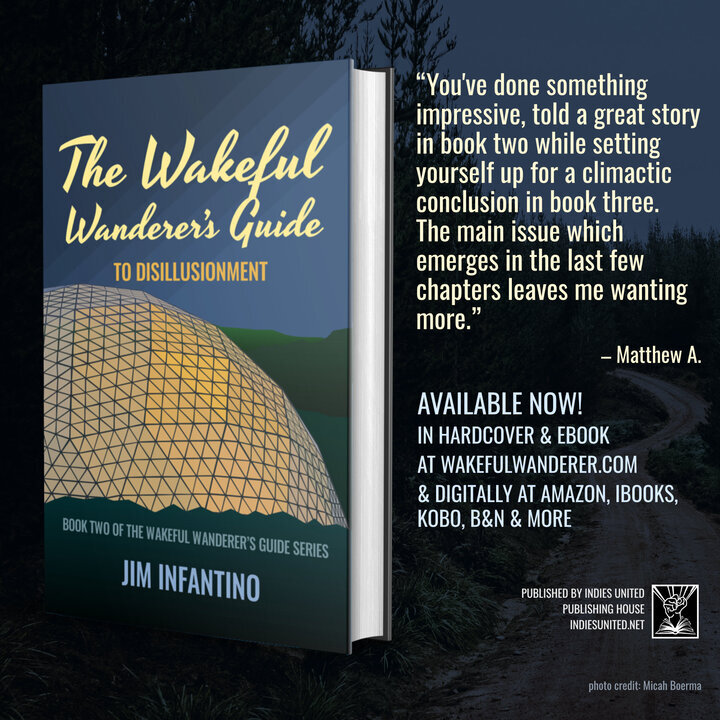 The Wakeful Wanderer's Guide to Disillusionment
Book 2 in the Wakeful Wanderer's Guide series
The Second book in the Wakeful Wanderer's Guide series picks up a few months before the end of book one. It follows the travails of Barnabas: the conquering tyrant, Nora: his abandoned spy, Reyeena: the possessed and grieving mother, and Helen: the runaway aristocrat, and of course, Marto, among others. Turmoil is brewing for the Interconnected and the Traditionalists alike as a third power emerges.
This middle book of the Wakeful Wanderer's Guide series delves deeper into the origins of the Interconnected and Traditionalist worlds, and broadens the perspective on both. The Memoria emerges as a force that might dissolve the divisions between these cultures. Old friends hold the key to forward progress or a backslide into disaster. The struggle to control the future of humanity in this near-future America is a battle of cultures, stories, and ideals.
Published by: Indies United Publishing House (indiesunited.net)
Pages: 312
Edited by Dan Layman-Kennedy
ISBN-978-1-64456-326-7 (hardcover) | 978-1-64456-324-3 (kindle) | 978-1-64456-327-4 (epub)